From the glass slipper to the ball gown, the costumes of Cinderella are an essential aspect of the production's storytelling.
Our costumes were purchased, in part, from Washington Ballet. Originally created by Judanna Lynn, who's designed for nearly all of the major dance companies in the U.S., they were initially on stage in Septime Webre's Cinderella. We also infused some of our own looks to match the vision of Artistic Director Edwaard Liang. (He includes more children in his production, for example.)
There are 400 individual pieces in the show, totaling around 150 different looks, and each one serves to bring the beloved story to life. Here, Erin Rollins, our costume shop manager, shares some fun facts and behind-the-scenes knowledge about the style of Cinderella. 
How would you describe the overall aesthetic of Cinderella's costumes?
It's a very elegant production. It is more traditional, both for ballet and for various iterations of Cinderella. There is a definite whimsy to the children's characters and to the flora and fauna characters that come out with the Fairy Godmother in the forest. Those characters almost have a Shakespearean feel to them in a way. But with the ball costumes and others, it's got a very iconic feel to it.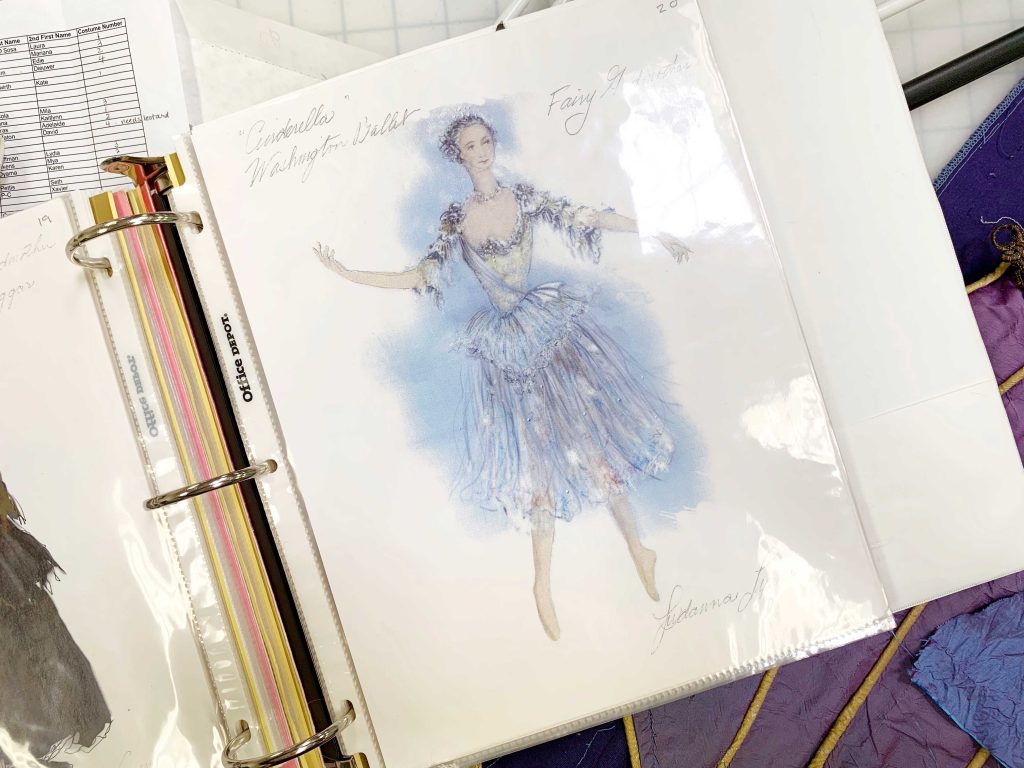 And in what ways do the costumes help to advance the story?
One really good example is the Stepsisters. We knew we didn't want to go over-the-top garish. We wanted them to be comical but not slapstick comical. So the challenge was to figure out a way to, initially, juxtapose their laziness and narcissism with Cinderella's martyrdom. So they never really get fully dressed for the entire beginning of the ballet. They're just hanging out in their corsets and bloomers all day long, never doing their hair or really taking care of themselves. As they head into the ball scene, we had to find a way to make them be jarring so it was clear they weren't making good choices about their attire. We ended up choosing an era of costuming that's about 30 years out of date for the show. So the majority of the characters are dressed in clothing that would be worn at the turn of the 18th century, and we put the Stepsisters and Stepmother into Marie Antoinette-esque, 1770s outfits, which was helpful because that era of history is already characterized so often. It was an easy juxtaposition. The entire ball scene is in these lovely whites and blues and silvers, and the Stepsisters are orange. They still look quite elegant—nothing's out of proportion and it's not a true characterization of the late 18th century but because of the juxtaposition, it makes it jarring. And then of course their movement and personification takes it to a whole other level.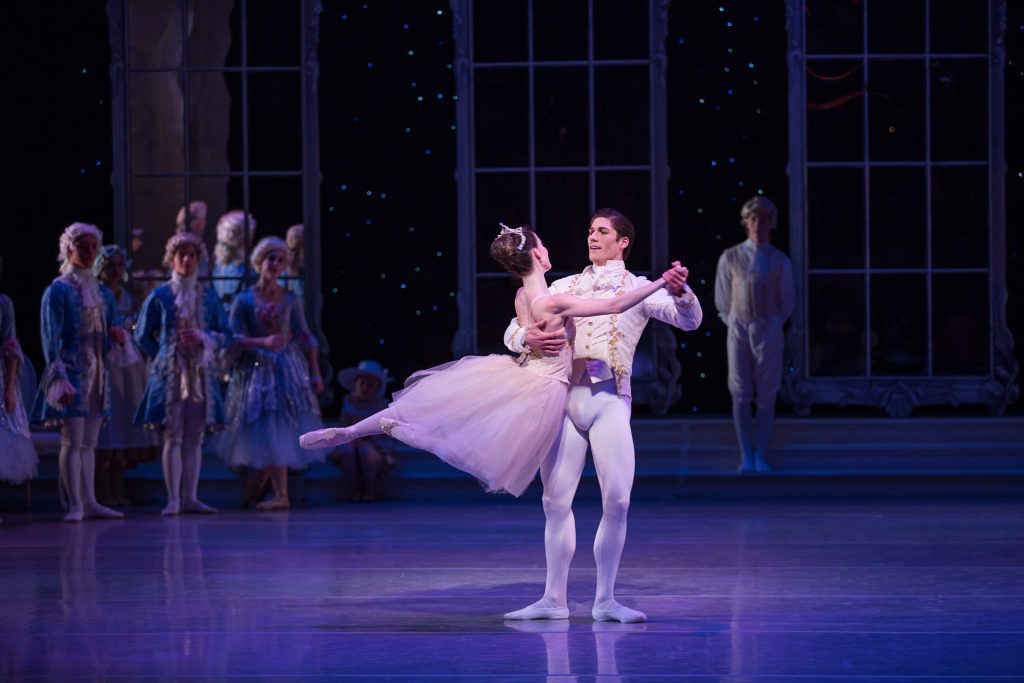 What about with Cinderella?
Well, you have her rags outfit. That was designed by Judanna Lynn, and I love what she did because she uses light, beautiful fabrics, but the patterns, and then of course it's distressed, make it look like rags without it being overly dingy or uncomplimentary. That's a hard thing to achieve in a Cinderella costume, and she really nailed it with that. Heading into the ball, we almost accidentally hit a perfect choice with her ball gown because it's all these very ethereal fabrics—tulle upon tulle. We wanted the skirt to have a little sparkle, so we added gems to it. Once you get on stage, you can't see the gems, so all you can see is a skirt that keeps throwing flashes of light. It ends up looking really magical, like it's not quite real. This doesn't translate on video or in photos, so the magic is only in person. Heading into her wedding, she's in something more substantial in the sense that it's not sheer—it's more like a dress.
Did you make any major changes to any of the costumes since BalletMet last performed Cinderella?
Sometimes you have to remember that things you see up close might not be as visible once you get it on stage and under lighting. The first time we did Prince, I felt we had trimmed and bedazzled his ball costume just fine, that he would look exactly the character he was. He ended up actually looking a bit bland the first time around. So we looked at the costume again this year. We amped up the trim work and gemming on the costume so he looked more balanced and stood out from the crowd as being more opulent and more obviously the lead male character.
Whose costume is the most complicated and why?
Funnily enough, Stepmother's day dress is the most complicated. That and the Jester are the two most complicated in the production. With hers, it's mainly because there's ruffling down the front, and it's very understated, but there's a lot of fabric in the front of that dress. The Jester we actually overhauled this year. The last time we did it, the costume was literally rotting, which happens when it's been around a long time. If it's made with a natural fiber like silk, after it's been sweat in and dry-cleaned for many years, it gets to the point where the fabric itself is tearing. They put so much stress on the costumes just doing the movement they're dong. When everything arrived after we purchased the costumes, we got the costume bible, which shows the original fabrics and drawings from the Judanna Lynn production. We were digging through the trunk trying to find the fabrics that belonged to the Jester, but the costume had aged to the point where the colors had changed. We had to go in and remake the entire costume. His jacket is a 16-to 20-piece bodice. It's got all this piping running up and down it and four or five different fabrics that are being mixed and interwoven. There was one fabric we couldn't find, so we had to take it completely apart, throw away some fabric and save some, soak them in water to get the salt and dry cleaning fluid out, and then reuse those pieces. And then we copied the pattern and re-cut the whole bodice. It was almost like an archaeological restoration. But it looks great and will last for many years to come.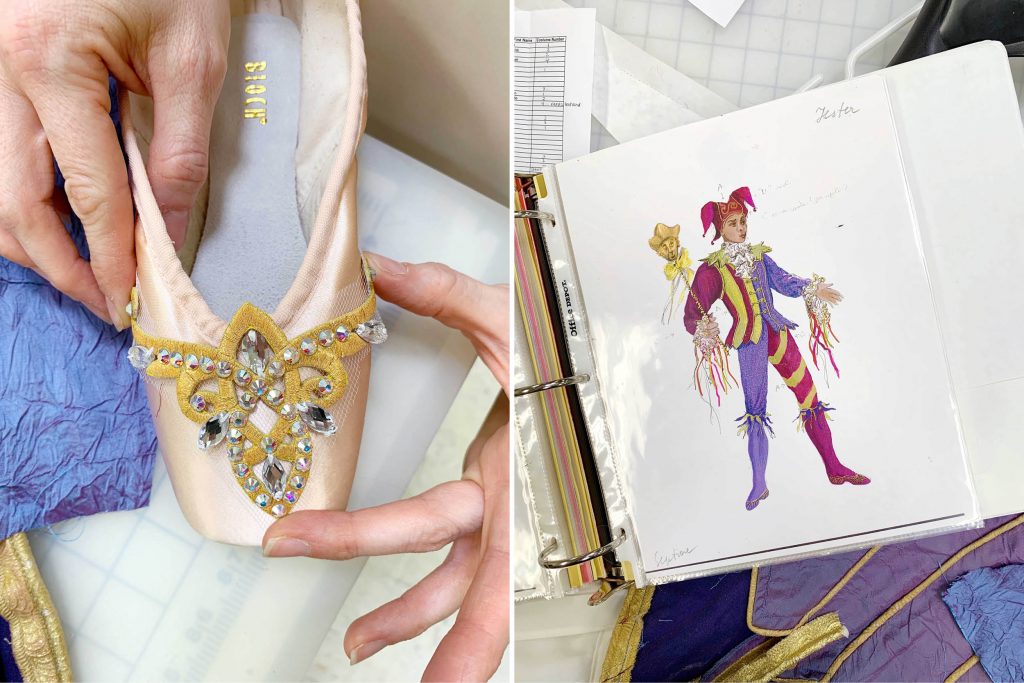 Tell us about Cinderella's slipper.
Lots of ballet productions will try different ways of utilizing the glass slipper. Edwaard really wanted it to be something that the dancers cast as Cinderella actually wear and dance in, so of course that meant we had to retrofit a pointe shoe. So we ended up creating a decorative decal out of gold Venetian lace and gems and mounting it on a piece of netting so the whole thing is an entity and it has a shape and design to it. But then the dancers could take that shape and tack it to the box of their pointe shoe to make it look unusual. We ended up having to make about 10 pairs of those decals, all identical. We attached one set to a pair that they use as a prop, running around throughout the show. And then two more sets of decals per girl so they can tack them to whatever shoes they elect to use for the ball and have two pairs on hand just in case. That's how we're handling it. So really you just see her dancing and you notice her shoes sparkle.
Which is your personal favorite and why?
I really do love Cinderella's skirt at the ball. I think because it just has a depth to it almost. You see all these varying layers, and I really do enjoy how that worked out. It's one of those things that I as a costumer geek out on—how fabric moves and you layer netting and chiffon and another type of netting and tulle and it makes it move and flow in a certain way. The colors interact with each other through the various levels of opacity. I geek out on that stuff.
Sketches pictured are by Judanna Lynn.