Dracula at BalletMet
BalletMet's Dracula returns to Columbus October 28! Former Artistic Director David Nixon is back to teach, coach and reimagine one of his most popular ballets. A lot has happened in the 6 years since BalletMet last performed Dracula.  Just six of the dancers who were present for the last run of Dracula are still with the company. The nineteen new dancers who are just learning this iconic ballet are helping to bring new life to familiar roles.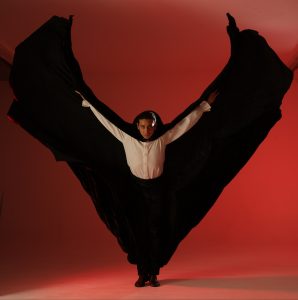 Jimmy Orrante as Dracula in 1999
After all, the most memorable part of Dracula for many community members is the distinct artistic perspectives our dancers bring to each role. From the very beginning, Jimmy Orrante was known for his portrayal of Count Dracula, his powerful stage presence and ease with the signature red cape delighting audiences. The rest of the original cast brought their own magic to their characters—David Paul Kierce's fierce Dracula, Carrie West's wild Lucy, and Elizabeth Zengara and Angela Wetzstein's conflicted Mina are remembered by many who saw their performances.
After nine seasons of performing Dracula, we can see the different nuances our artists give these established roles. Our Draculas—Jimmy Orrante, David Paul Kierce, Hisham Omardien, Gabriel Gaffney Smith, Jackson Prescott Sarver, David Ward—have all built complex ideas of the character, each choosing to interpret the Count's quiet intensity in their own way. Our Lucys, Carrie West, Rebecca Rodriguez, Christina Mangia, Emily Gotschall, Bethany Lee, Jessica Brown, all pull the audience into their mad descent through different pathways. And our Minas—Elizabeth Zengara, Angela Wetzstein, Jamie Dee, Adrienne Benz, Annie Mallonee, and Olivia Clark Omardien—all find their own answers to what it is about Mina that lets her bring Dracula a little closer to humanity.

Olivia Omardien as Mina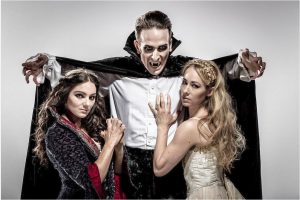 Jackson Prescott Sarver as Dracula

Gabriel Gaffney Smith as Dracula 
This season audiences will recognize David Ward and Jessica Brown in their previous roles as Dracula and Lucy. The fantastically explosive Miguel Anaya also takes up Dracula's cape, while Caitlin Valentine brings her delicate  strength to Lucy. Grace-Anne Powers and Francesca Dugarte both continue the legacy of Olivia Clark Omardien, now Associate Director of BalletMet 2, in the complex role of Mina. With David Nixon and Hisham Omardien back in our studios to direct rehearsals, the core of this beloved work will be on stage.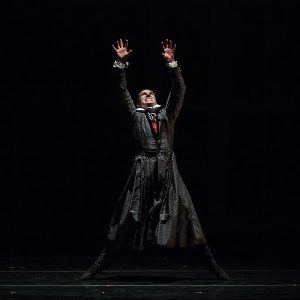 David Ward as Dracula
And yet…after years of Nixon working with the Northern Ballet's version of Dracula and with a wealth of new dancers bringing new perspectives to the characters, who knows how this season's incarnation of the Count might evolve? The next iconic interpreter of this Columbus classic may yet be lurking in the corps. Join us this Halloween for a haunting exploration of what makes a monster a man.
Written by Sara Wagenmaker
Photos by Jen Zmuda and Will Shively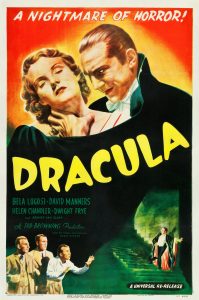 1947 Reissue of Movie Poster
History of The Count
BalletMet's Dracula returns! David Nixon brings the Gothic classic to life at the Davidson Theatre October 28 through November 5. It's a long journey from crypt to stage and the Count has changed quite a bit since his 1897 introduction.
Dracula, although the first vampire to come to mind for many, was not the first literary vampire. Bram Stoker's take on the bloodthirsty legend was heavily influenced by folktales his mother told him as a child as well as John Williams Polidori's The Vampyre (1819) and Joseph Sheridan Le Fanu's Carmilla (1872). Stoker brought all these and more together in his novel, an epistolary work told through letters, journal entries, and news articles chronicling Jonathan Harker's encounters with the Count. His villain's name came from a 15th century Wallachian ruler: Vlad III, also known as Vlad Țepeș, Vlad the Impaler, or Vlad Dracula.
Upon initial publication Dracula was just another book. It was not until the silver screen (and the lawyers) got involved that Dracula began to attract significant attention, building the foundation for the figure we fear today.
First was Friedrich Wilhelm Murnau's Nosferatu (1922). The plot and characters were eerily similar to Dracula—so similar that Stoker's widow Florence sued the studio for copyright infringement! After several years in court, Florence Balcombe Stoker won and Nosferatu materials were ordered to be destroyed. This case brought fresh publicity to the novel. Within a decade a licensed play adaptation by Hamilton Deane (1924) and a licensed film adaptation by Universal (1931) were released. Bela Lugosi starred in both, giving a signature performance that cemented Count Dracula in the public imagination.
From there vampire media took on a new life. Hammer Films Production's 1958 film series gave Dracula an updated look by adding sharp fangs. John Badham's Dracula (1979), Konami's video game series Castlevania (1986) and Francis Ford Coppola's Bram Stoker's Dracula (1992) continued to adapt the tale of Dracula, adding a romance with Mina, family drama, and new scenery. Authors like Anne Rice and Stephenie Meyer chose to leave Dracula behind and spin their own tales of bloodsuckers but the classic Dracula still had audiences firmly by the throat.
In 1997 the Count took some dance lessons and joined the ballet world. Ben Stevenson's Dracula premiered a century after the novel's publication, commissioned by the Houston Ballet and Pittsburgh Ballet Theatre. In 1999, choreographer David Nixon worked with BalletMet dancers (notably Jimmy Orrante as Dracula) to create his version of Dracula. He drew inspiration from both the original novel, Francis Ford Coppola's film adaptation, and other vampire stories. David Ward and Gabriel Gaffney Smith took up Dracula's cloak in 2016 on Jimmy's retirement. This year, a new cast takes on the Count. Nixon's Dracula, with spellbinding choreography telling a tale of love and death. Join us at the Davidson Theater October 28 through November 5 to see the Count rise from his coffin and, once again, take to the stage!
Written by Sara Wagenmaker
Photos by Jen Zmuda and Will Shively