The 2022/2023 season is BalletMet's 45 year in Columbus!
"All of the people… people from the community, people that are still here… wonderful people that just believed, so much, in the mission and loved dance and wanted to see something develop and move forward.  Without those people, none of this would have happened.  All of the people who have worked here over time; when we talk about our BalletMet family, that's really what it is." -Daryl Kamer on BalletMet
Daryl Kamer started Ballet Metropolitan Columbus School, to teach and present ballet in the Columbus area. There was a board, students who came to class, and a small performance group; BalletMet truly began from the ground floor. Daryl remembers fondly, "We knew what the process was (to create a professional company), but you don't know, until you experience it, what it's all about."
BalletMet began in 1978, after community support, combined with substantial grants from Battelle Memorial Institute Foundation, made it possible to launch a national search for an artistic director and to hold auditions for company dancers. Wayne Soulant was engaged as BalletMet's first Artistic Director. Thirteen professional dancers were hired for the premiere season, along with Violetta Boft as Ballet Mistress.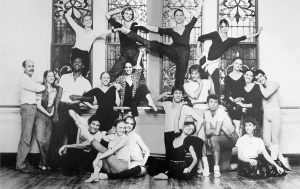 BalletMet's Professional Company Dancers | 1980/81
"The creation of a ballet company is one of the greatest challenges dance artists can undertake. It is a monumental venture. It is an experience that the staff of Ballet Metropolitan, the Company's dancers and the community at large have the privilege to be involved in at this very moment……I personally am honored to be part of that dream, to come to Columbus, and devote my energies to that reality. Ballet Metropolitan has gone to great lengths to bring its city a dance experience of the first order. Dancers not only from Columbus, but from all over the country and abroad have been assembled. An eclectic and exciting repertoire is programmed. The future is bright and vivid. The present is here and now."-Wayne Soulant, Artistic Director, Ballet Metropolitan Inc. from the premiere season program.
The first facility that BalletMet worked in was an odd space with a large pillar in the middle, which had to be wrapped in a mattress in order to prevent injuries to the dancers. The company moved next to an old church building on 55 East Blake Avenue; a very inspiring, large space for the company. Hopes were high, but it became clear in the sweltering summers without AC and chilly winters in a large, drafty building that this still wasn't right.
In 1981, BalletMet moved to a space on Jefferson Avenue that had previously been a school. With a new, larger space established, BalletMet offered the first "Morning at the Ballet" educational program. The Dance Academy drew 400 students. This was the year that the famous Nutcracker poster featuring Lauren Kane was produced and became an international best seller.
Wayne Soulant left BalletMet in 1986 and John McFall joined BalletMet as its second Artistic Director. Under John McFall, BalletMet began its pre-professional and outreach scholarship program. It was also John who recognized that the current space was still too small for BalletMet's future plans. The hunt began for a larger, more appropriate space. John reached out to the community and got people involved and interested, both in Columbus and abroad.
1988 saw BalletMet's first international tour take place in Egypt. Long-time board member Nancy Strause recalls being with the company as the first American dance company to perform in the sophisticated Cairo Opera House.
In 1990, BalletMet found a new home and created the Dance Centre on Mt. Vernon Avenue. The building dates from the late 1800's and once was a tin manufacturing company. This move would be an integral part of BalletMet and its Academy becoming recognized both locally and nationally.
In 1991, BalletMet toured to Spain as part of the Quinto Centenario Celebrations.
David Nixon was named artistic director of BalletMet in September 1994. David brought many story ballets, increasing the public appeal of BalletMet's season.
In 1996, BalletMet's professional training program was established and David Nixon's Butterfly premiered. In 1997, BalletMet received a Columbus Arts Council Artistic Excellence Award for Requiem! and celebrated its 20th Anniversary.
1999 saw the first performance of David Nixon's Dracula which instantly became a community favorite and will be performed again during the 2022/23 season.
David Nixon announced that he would leave the company at the end of the 1999-2000 season to accept the position of Artistic Director with Northern Ballet Theatre in England.
Gerard Charles, who had been working with David Nixon, was named Artistic Director of BalletMet in 2002. Gerard promoted collaborating with other cultural arts institutions, including the Ohio State University, the Columbus Jazz Orchestra, and more.
2004 saw the premiere of Gerard Charles' The Nutcracker. Nineteen years later, it is still a favorite holiday tradition.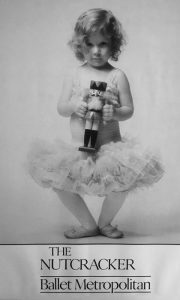 In 2005, BalletMet took a historic step with the December purchase of the Dance Center and entire Mount Vernon block. A permanent home in downtown Columbus helped secure the company's future.
BalletMet and the Columbus Jazz Orchestra won the distinguished award for their collaboration of Jazz Moves Columbus in April of 2006…a fitting celebration for BalletMet's 30th year!
In 2007, BalletMet collaborated with Shadowbox Live to bring 7 Deadly Sins with live music to the stage at the Capitol Theatre at the Riffe Center. The Columbus Gay Men's Chorus joined with BalletMet to create The American Songbook at the Capitol Theatre at the Riffe Center in 2012.
Edwaard Liang became BalletMet Columbus' fifth Artistic Director in 2013 and immediately continued BalletMet's tradition of collaboration with Twisted. Twisted was a ground-breaking collaboration between BalletMet, Opera Columbus and the Columbus Symphony Orchestra performing together in the iconic Ohio Theatre.
2016 was a banner year for BalletMet! It was not only the 40th anniversary, but the organization won multiple Emmy Awards for Becoming Violet.  The Company also premiered Gustavo Ramirez Sansano's Carmen.maquia and Twisted 2.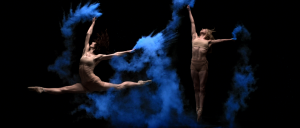 Becoming Violet
BalletMet presented Parallel Connections co-produced with the Ohio State University Department of Dance in 2017. Also that year, Edwaard Liang's Dorothy and the Prince of Oz premiered and BalletMet received the Greater Columbus Arts Council's Excellence Award for Art in Motion.
In 2019, Balletmet presented Twisted 3 and By Liang with a world premiere of Beautiful Child.
Post-pandemic, BalletMet came back to the stage in 2021 with Unlocked, a wonderful, two version show featuring choreography from BalletMet dancers.
2022 brought us a World Premiere of Edwaard Liang's Seasons as part of Director's Choice.
Edwaard has taken the company to a caliber and quality of dance that BalletMet Family members like Daryl Kamer never thought possible. In the words of Nancy Strause, "Looking back, you do just realize how proud you are of everything that's been accomplished."
We can only imagine what the next 45 years will bring and look forward to continuing to share the art and joy of dance in Columbus and beyond!