Spotlight: Academy dancers…
  Phoebe Ing
and
  Sumi Ichikawa
Phoebe is a student in the BalletMet Dance Academy and has been dancing for 9 years. Sumi is a trainee in the Academy and has been a dancer for 12 years. We asked them some questions to get to know them better…
I know you've both been dancing for many years…what has made you stick with it?
Phoebe: I have been dancing since the age of 4. I have continued because of my love of performing, the required precision, and constant discipline. Watching the professional dancers in the company has also inspired me to keep with it.
Sumi: When I first came here the teachers at BalletMet truly showed their love for dance and that made me fall in love with it.
What dance styles have you studied?
Phoebe: The dance styles I have studied are ballet, jazz, flamenco, character, and modern.
Sumi: Ballet, tap, modern, jazz and flamenco.
Which style is your favorite?
Phoebe: Ballet is my favorite style of dance.
Sumi: Ballet will always be my favorite style to dance.
Have you ever forgotten dance steps during a performance? If so, what happened?
Phoebe:  I have forgotten dance steps during a performance due to nerves. Using musical cues and watching others around me helped me to get back on track.
Sumi: Yes, I have forgotten the steps during a performance before. It's usually nerves but I get past it by trusting that my body knows the choreography and listening to the music. Although there was a time when I was 5 and when I forgot the choreography I just froze and stared at the audience.
What is your favorite part about dancing with BalletMet?
Phoebe: I really enjoy dancing with the company and being in the wide variety of shows with my friends.
Sumi: All of the performance opportunities we get and getting to dance with the company.
What is your favorite dance highlight thus far?
Phoebe: My favorite dance highlight was dancing in the role of Clara in the 2019 and 2021 Nutcracker.
Sumi: Either Western Symphony, Waltz of the Flowers from The Nutcracker or Sleeping Beauty.
Outside of dance, what are some of your favorite things to do or places to go?
Phoebe:  Outside of dance I love to travel to New York and California to visit family and sightseeing. I enjoy playing tennis with my friends, gardening, and hiking.
Sumi:  Outside of dance, I love hanging out with my friends, baking sweets and walking around the parks.
What music are you listening to right now?
Phoebe: I usually listen to classical and pop music.
Sumi: I like listening to all music. My favorite artists are Katy Perry, The Black Eyed Peas, Miley Cyrus, One Direction and Paramore.
Thanks for sharing some of your story with us. We wish you much success as you continue your dance careers and we are excited to see where it takes you both!
Spotlight: Accompanist Joowon Kim
What is your role at BalletMet?
My role at BalletMet is to provide piano accompaniment to ballet class. To enhance the quality of the ballet class, I want to provide suitable and beautiful music matching with dance movements.
How long have you worked with us?
9 years
What or who inspired you to pursue this career?
When I started this position, Susan Chess, music coordinator from Ohio State University inspired me to pursue this career. She showed me how to create a fantastic harmony between ballet movement and music. It was so meaningful.
What is your favorite career highlight thus far?
One of my favorite careers is playing piano for ballet, musicians, and choirs. With 25 years' experience teaching music, I also love to help people develop their musical skills and find enjoyment of music.
Thank you Joowon for sharing your art and expertise with us! We are better because of you.
Spotlight: BalletMet 2 Dancer Tristan Toy

Tristan Toy started dancing at the age of nine at Dance Arts Center under Berle Davis and Jayne Zaban while doing summer intensives at Joffrey Ballet with full scholarships. He later attended Ruth Asawa School of the Arts' Dance Program under Elvia Marta and Andrea Hinman while dancing with Academy of Ballet San Francisco under Zory Karah and Richard Gibson.
He took part in Boston Ballet School's inaugural Post Graduate Program under Peter Stark and Kathleen Mitchell. Recently he participated in BalletUnleashed's first creative project "Switchback", working with choreographer Cathy Marston to create a solo.
Tristan started his professional career in 2021 with BalletMet 2.
What inspired you to become a dancer?
I was inspired to become a dancer because I envied how the dancers were able to move so beautifully while looking as if it were the easiest thing in the world.
What is your favorite role you have performed/career highlight thus far?
I would say my favorite role that I've performed so far would be one of the Trepak dancers in the Nutcracker!
Is there a dream role that you haven't had yet, but hope to?
I wouldn't say there's any role in particular that is a dream for me, but I love a role where the character has a fun personality!
If you weren't a dancer, what do you think you would you be doing?
If I weren't a dancer, I'd probably be a college student. I'm not sure what I'd be studying but it would definitely be something to do with art in one way or another.
Thanks for sharing your story with us Tristan! We look forward to watching you dance!
Spotlight: Academy Student Elizabeth Szeto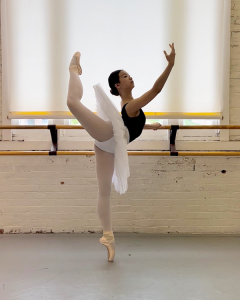 Elizabeth is a student in our academy and has been dancing with BalletMet for 10 years.
Elizabeth, what has made you stick with dancing?
Seeing the professional and pre-professional dancers, and seeing their passion translate through dance makes me want to be just as good as them.
What dance styles have you studied?
I have learned ballet, modern, jazz, character, and flamenco.
Which style is your favorite?
Ballet is my favorite dance style that I have learned so far.
Have you ever forgotten dance steps during a performance? If so, what happened?
Luckily, I have not forgotten any steps so far, but if I had then I would stay in character, stay calm, and look at other people as reference.
What is your favorite part about dancing with BalletMet?
I love being able to dance and perform on stage.
What is your favorite dance highlight thus far?
My favorite dance highlight so far was the 2019 Nutcracker, because I was in a cast with my best friends and I made many great memories that year.
Outside of dance, what are some of your favorite things to do or places to go?
In my free time, I like walking around the zoo and on vacation my family and I like to visit different museums.
If you like music, what music are you listening to right now?
All kinds of music but mostly pop music.
Thank you Elizabeth for sharing your story. We can't wait to see what you accomplish!
Spotlight: Artistic Director Edwaard Liang
  
Photo credit: Jennifer Zmuda
May is Asian American and Pacific Islander Heritage Month. A time to honor the culture, heritage and customs that Asian Americans bring to the community. At BalletMet we are highlighting some members of our own organization throughout the month.
Our first spotlight lands on our Artistic Director, Edwaard Liang. Edwaard was born in Taipei, raised in California and began his dance training at age five with Marin Ballet. After studying at the School of American Ballet, he joined New York City Ballet in 1993. That same year, he was a medal winner at the Prix de Lausanne International Ballet Competition and won the Mae L. Wien Award. By 1998, he was promoted to Soloist. In 2001, Mr. Liang joined the Tony Award® winning Broadway cast of Fosse. His performance in Fosse was later televised nationally on PBS' Great Performances series – "Dance in America: From Broadway: Fosse," and subsequently released on DVD. By 2002, Mr. Liang was invited by Jiri Kylián to become a member of the acclaimed Nederlands Dans Theater 1.
While dancing with NDT 1, Mr. Liang discovered his passion and love for choreography. Since establishing himself as a choreographer, his works have been performed by dance companies around the world and he has won numerous awards for his choreography including the 2006 National Choreographic Competition.
In 2013, Mr. Liang was named Artistic Director at BalletMet where he continues to choreograph new works for companies both domestically and abroad. In 2017, he received an Emmy® Award for his short dance film, "Vaulted." In 2018, he created a new ballet with Roberto Bolle for the opening of the World Economic Forum Annual Meeting in Davos, Switzerland.
We asked him about Asian American and Pacific Islander month…
I'm really happy and so grateful to celebrate Asian American month and to show how powerful representation is and being able to be a visible Asian arts leader. I cannot be more grateful to Columbus to be able to see my heritage as a positive and to have BalletMet choose to hire me as the first Chinese Artistic Director of a ballet company in the United States. So, this month is absolutely a huge celebration for our community and for the organization that I belong to and for myself personally as an artist. I hope to do justice in paving the way for other Asians to be leaders and mentors and to show that it is possible.
When you were dancing full time, what was your most favorite role?
Oh…just like food, I can't choose just one. I am such a foodie and I love a buffet because I love variety. I have lots of favorite roles. I'll try to narrow down my favorite choreographers. To answer your question, as a dancer, as with food, I think variety is the spice of life. Some of the top ones I loved are George Balanchine…I loved dancing his works. I loved dancing and working with Jerome Robbins. I was very lucky to get to work and dance Jiri Kylián's ballets. I loved learning Mats Ek work. Bill Forsyth is another huge hero of mine.
When did you start choreographing?
My first work was with Nederlands Dans Theater in 2002. I was kind of dared into creating a piece for a choreographic workshop and I did a pas de deux that became successful in the workshop. Somehow some producers found the video and I got my first project in NY when I moved back to NYC. Then Wendy Whelan and Peter Bull asked me to do a pas de deux for them for the Joyce and I got a review in the New York Times and it launched my career.
Where do you draw inspiration for new works?
My inspiration is always music for every ballet. I come from the house of Balanchine, Robbins and Killian and it is always music-first.
If you weren't a dancer/choreographer, what do you think you would be doing?
I thought at one point I would go back to cosmetology school. I love cutting hair…still love to color and cut hair. I also love the idea of being a dentist….or maybe a food critic but I think critics are more about the refined food and I like them all. You know usually critics aren't about mass amounts of food. I like all food…I get just as excited going to fine dining as I do about getting a footlong hot dog from Costco. The food scene is one of the reasons that has kept me in Columbus. There are really amazing Asian food and Asian markets here. I get to cook Chinese food here with ingredients I couldn't find when I was in NY, I had to go to Flushing. My favorite market here is Cam. It is awesome…it has everything. It is super clean and bright, and there is so much to choose from.
Thank you Edwaard, for your creativity and your commitment to the Columbus arts community. We can't wait to be a part of what is yet to come!