Featuring timeless dances, magnificent costumes, beautiful sets and plenty of magic, The Nutcracker takes you on a journey you won't soon forget.
But it requires a great deal of time, effort—and pointe shoes (read on for the total number used throughout the show) to get the production from start to finish. Ever wondered how we make it happen?
Here are some fun facts that provide a different look at the beloved ballet.
There are 28 company dancers who perform in The Nutcracker. many have learned multiple roles for this production.
The ballet features 180 students from BalletMet's academy. This is one of the highest numbers of academy students to be featured yet!
The dancers put in many hours of rehearsal to learn all of their parts, and the total number varies from year to year. In 2018, for example, the company dancers have put in 100 hours of studio rehearsal. About half of that time is with everyone in one studio together, and the other half is done with 2 to 3 simultaneous rehearsals at a time in different studios. In the 2023/24 season, BalletMet Dance Academy students began their preparations for The Nutcracker as early as September.
There are 275 total costumes for the run of the show. 132 costumes can be seen on stage during each performance.
There are 4 Nutcracker Prince costumes, 5 Adult Clara costumes and 5 Sugar Plum Fairy costumes.
19 Mouse Heads go on stage every night, but only 18 tails. (Granny, who transforms into a mouse in Clara's dream, doesn't wear a tail.)
Mother Ginger needs 3 people to help her get into her costume for each show.
BalletMet uses over 300 lbs of fake snow throughout the month of December!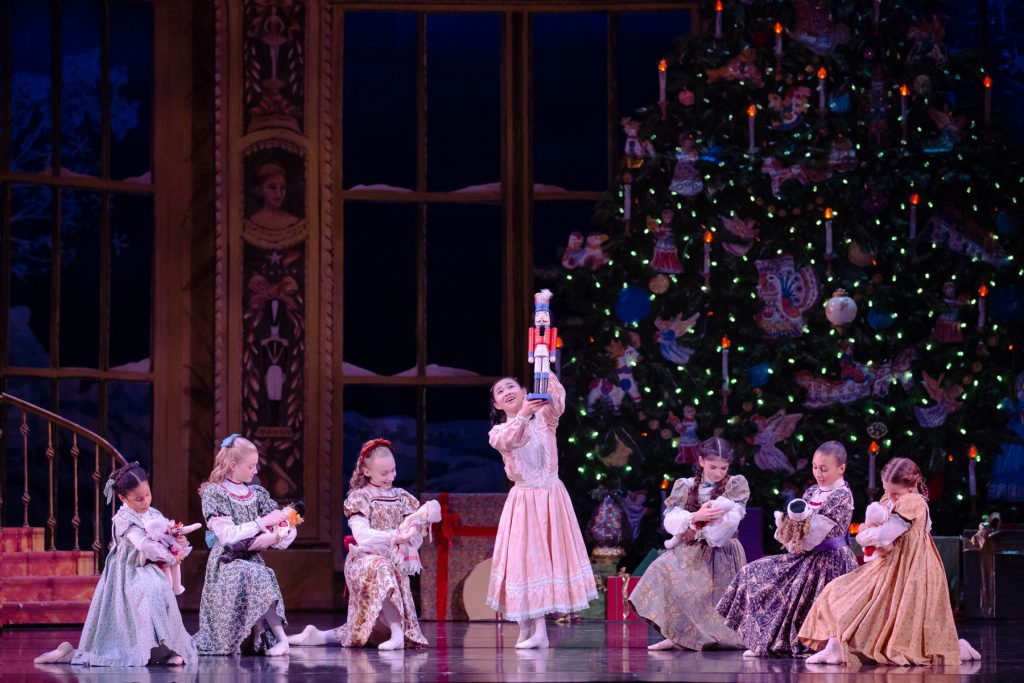 Young Clara has a quick change from the party scene into the battle scene. She has 1 minute and 30 seconds to get changed, which is the fastest change in the entire show. 2 people help with this change.
Approximately 308 red cheek dots are used for the Soldiers and Dolls costumes.
There are 15 layers of tulle and almost 200 beads in each Sugar Plum Fairy tutu. Nearly 3/4 of the beads are on the top of the bodice. That means for all 5 Sugar Plum Fairy costumes there are around 75 layers of tulle, and 1,000 beads!
For each show, there are 5 wardrobe crew and 6 academy chaperones assisting with getting the dancers into costumes and helping with quick changes. We couldn't do it without them!
Laundry is done after every show and the wardrobe crew does a minimum of 7 loads of laundry per show. That's over 125 loads of laundry throughout the entire run!
Once all shows have been performed, the wardrobe crew has to use 5 large bottles of laundry detergent and about 15 gallons of vodka to clean the costumes. The vodka is used to disinfect costumes that can't be washed traditionally.
About 108 pairs of pointe shoes will be used throughout the run of the show.
So much work and practice goes into making the magic of each individual Nutcracker show happen.
Words by Anita Burton. Photos by Jennifer Zmuda