The realm of dance is a symphony of motion and creativity. Central to this world is the iconic Twyla Tharp, a name synonymous with innovative choreography.
Although many dancers have worked alongside Twyla Tharp, Matthew Dibble stands out, not just as a performer but as an instrumental figure behind her captivating creations.
This blog spotlights their collaborative journey and dives deep into Dibble's insights and experiences as a Repetiteur for Twyla Tharp.
Meet Matthew Dibble
Before exploring his shared history with Twyla Tharp, it's important to know who Matthew Dibble is. 
Born in England, Matthew Dibble began his dance journey at a tender age. His passion and dedication led him to join the Royal Ballet School in London, an institution known for grooming world-class dancers. 
During a performance with the Royal Ballet, Matthew's path initially crossed with Twyla Tharp, marking the beginning of an enduring professional relationship. It was during this particular production of "Mr. World Advice" that they hit it off and began their years of working together in shows on Broadway and more. 
Their shared passion for dance led them to work on many successful projects together, culminating with Twyla Tharp recognizing Dibble's ability to interpret her complex choreographic visions and him becoming a Repetiteur for her many works. 
The Ongoing Endeavor: Nine Sinatra Songs
Zooming into the present, Matthew is engrossed in staging Nine Sinatra Songs for BalletMet's season opener On Stage, premiering on October 13 at the Davidson Theatre.
An artful blend of Frank Sinatra's immortal tunes with the distinctive choreographic charm of Twyla Tharp, this premiere performance for BalletMet epitomizes the magic created when giants of their fields merge.
And I would say the piece has many aspects. It involves many aspects of love. So there are many different shades to love and many different areas in the passages kind of symbolize that.

– Matthew Dibble
Nine Sinatra Songs is a dance interpretation of love's multifaceted nature. Sinatra's chosen tracks for the production, from hits like "Something Stupid" to more profound tunes like "My Way," craft an emotional arc.
The choreography, true to Twyla Tharp's signature style, eloquently mirrors the narrative of these songs.
Get tickets to see BalletMet perform Nine Sinatra Sings by Twyla Tharp at On Stage.
Crafting Dance Narratives
For Matthew, being a stager for Twyla Tharp's work goes beyond choreography. It's about selecting dancers whose essence matches the roles. 
It's a meticulously crafted process where trust, especially with the director, is of paramount importance.
Matthew's challenge lies in preserving Twyla Tharp's original vision while granting dancers the space to infuse personal flair. 
It's all something that Twyla is particularly wonderful at; As well as being one of the world's greatest choreographers, is her sense of casting. Something that I've worked closely with her for the past 20 years is picking up a small bit of how she does it and what personalities are correct for sets.

– Matthew Dibble
But Dibble tackles this challenge with grace, finding the magic in how various dancers and companies take on the roles.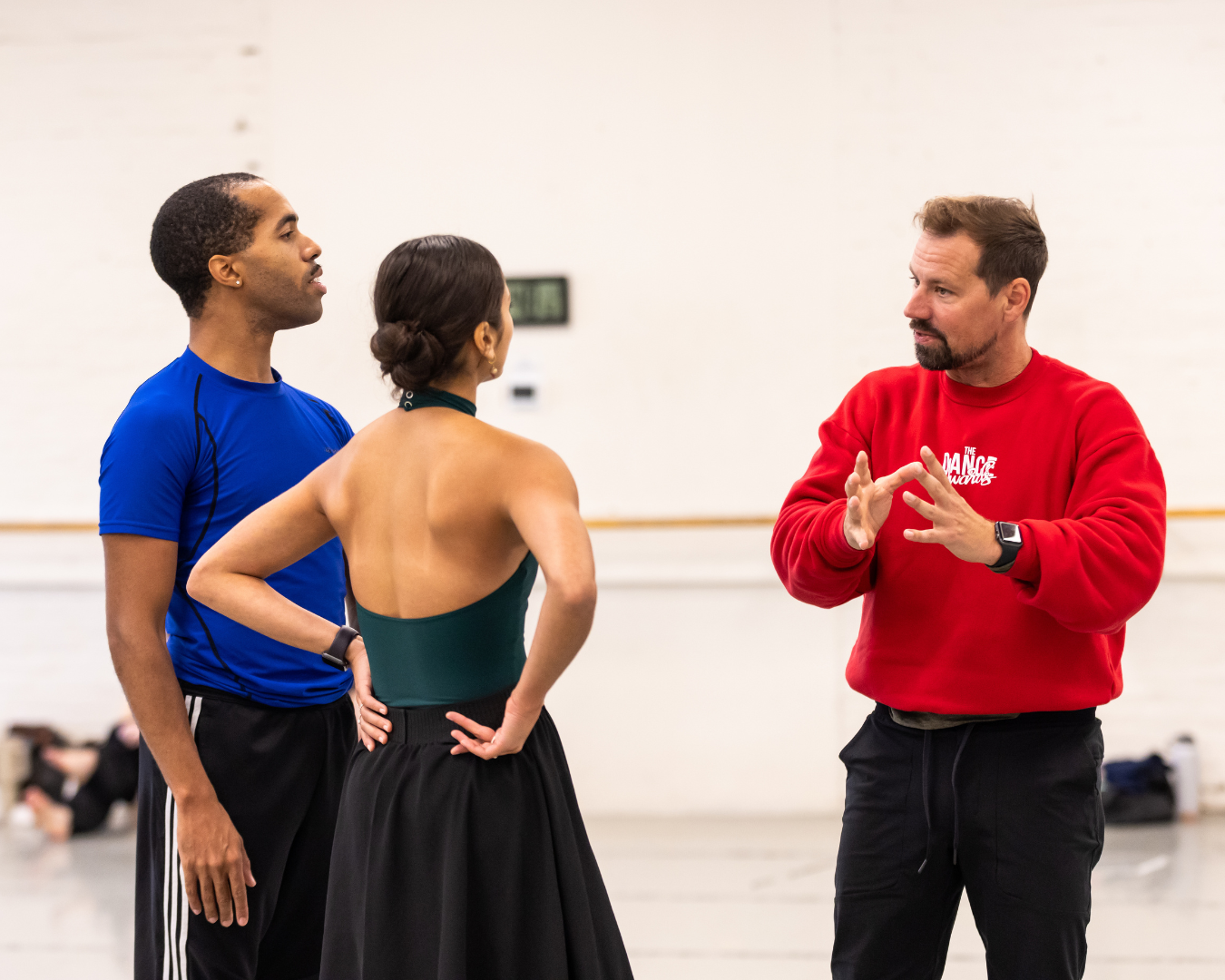 Dibble goes on to share that he believes that it is the dancers' personalities and how they interpret Twyla Tharp's work that is what keeps it truly fresh for audiences. 
Perfecting Every Move: Rehearsal
Rehearsals for Nine Sinatra Songs are a layered affair. It starts with the foundational choreography but evolves to capture the emotional depth, especially with Sinatra's tracks adding a dramatic layer to the dance.
In ballet, as Matthew underlines, teamwork is everything. Marrying the director's vision with the dancers' skills and the choreography's essence ensures that the final performance is both authentic and refreshing.
When reflecting on Nine Sinatra Songs, Matthew has a soft spot for "My Way." This piece, choreographed by Twyla Tharp, beautifully underscores the emotive prowess of dance.
The "My Way" [section] is really beautiful. And then the second moment, which is all the couples together, I think just brings everyone together, the way Twyla has choreographed that, beautifully. To move around the stage, it is a really special piece of choreography.

– Matthew Dibble
Passion Beyond Dance
Outside the luminous world of ballet, Matthew is an avid golfer and has recently found a home in Texas. Amidst his bustling career, he finds solace in golfing and discovering artistic treasures in places like Columbus.
Matthew Dibble's evolution from a budding dancer with the Royal Ballet to Twyla Tharp's "petite sir" speaks volumes about his commitment and the magic of dance. 
His perspective on choreography, character casting, and the harmony of innovation and tradition offers a riveting view into ballet's universe. 
As audiences anticipate Nine Sinatra Songs and other masterpieces, it's evident that individuals like Dibble, under the influence of legends like Twyla Tharp, are essential to crafting these unforgettable experiences.